Funny, as I read more and more books in 2015, the #1 book kept changing. There were many books I read this year and thought: "that is the best book I've ever read!" but then, over time, I realized that maybe I enjoyed something else a little more.
I read a total of 26 books this year and two novellas, which is a huge accomplishment for me. I tried to read mostly books that other people recommended. When I did, for the most part, I was thrilled.
Looking through the list, I had ten books that knocked my socks off, and only  one that was a DNF. And one or two I wish I didn't finish.
So now, at the end of the year, I am going to re-rank them all again. While all of the books in my top ten were well written and jam packed with awesomeness, some of them "stuck with me" more than others. And while some had annoying things I over looked because I liked the rest of the book, other books I enjoyed without any annoyance, so I bumped them up highter. (If that makes any sense) So, here are my top ranked books this year.
The best of the best:
      Cress, Marissa Mayer – Loosely based on the fairytale Rapunzel, Cress is a maiden with long hair being held captive in a satellite orbiting earth. Her prince is a swashbuckling hero who doesn't know he is a hero. This book is book three in the Lunar Chronicles, and does not stand alone. You really do need to read the other two books first. But holy freaking cow—this book was absolutely AWESOME! I was not crazy about Cinder (book one in the series) but everyone told me I needed to keep reading. I am so glad I did. This might just be the best book I have ever read. Amazing characters, fast pace, and a plot that dazzles. It has been many, many years since I anticipated a sequel. I'm really looking forward to the next book.
      Red Queen, Victoria Aveyard – To be honest, despite the hype, I had no desire to read this book. I only picked it up because my son plowed through it and told me to drop what I was reading and read Red Queen so we could talk about it. I have to say I'm really glad I gave this book a chance. This is a dystopian in a world where some people have developed magic while others remain normal. There are both futuristic elements as well as similarities to classic fantasy that I think really makes this novel stand out. It is a great story with a very original plot and a great twist at the end. I really enjoyed it.
      Alienated, Melisa Landers—Wowzers. This was a delightful read for anyone who enjoys a good alien romance. Great conflict and a nicely plotted conflicted hero who makes mistakes, but for the right reasons. Where the 5th Wave was technically a better novel than Alienated, Alienated is far superior on the sheer enjoyment level. To be honest, both had weak finishes, but Alienated stuck with me, and I would consider reading it again.
      The 5thWave— This might be one of the best executed books I have ever read.  This was a very deep and introspective story. One that really makes you think. It is easy to see why this has become such a hit. It walks a fine line across many genres. There are deep, well-developed personal relationships that will appeal to the contemporary reader as well as high action scenes that will keep the thrill seekers turning pages. And, of course, there are aliens… and what's there not to like about aliens? I went in ready for a "let's see how much we can blow up" story, and found it to be so much more. The beginning is a touch slow as the world and characters are being built, but the multi-faceted plotline and the way the character's lives weave together is totally worth the ride. (The end was lackluster, but as a whole, I'd definitely recommend this one)
      Scarlet, Marissa Mayer—Wow. I read Cinder (Book one of the Lunar Chronicles) at the end of 2014, and was not really enthused. It was good, but not really my cup of tea. I'd heard a lot of rumblings that Scarlet, book 2, was even better. I gave it a try when I found it at the library. Now, to be honest, I did not like it at first because we continue Cinder's story from Cinder's POV, and then, half way around the world, we have Scarlet's story in her POV. To be honest, I was a lot more interested in Scarlet's story than Cinder's… so I had to trudge through the Cinder chapters. But the last five chapters or so, when they came together, really changed my mind. I am totally interested in continuing the series now. Really good.
      White Hot Kiss, Jennifer L. Armentrout – Great Googley Moogley! This book was awesome! I hesitated, because it is a demon romance, and it sounded stupid, but JLA is one of my favorite authors, so I decided to give it a chance. The story surrounds a half-gargoyle/half-demon girl who is raised by gargoyles to hate her demon side. She meets a demon and falls for him, which is a problem because her Gargoyle family's job is to kill all the demons. (I know, this sounds incredibly dumb – but it was AWESOME!)
      Invaded, Melissa Landers – Book two in the Alienated series. I have to admit I cheated and got this at the library to avoid my book-buying ban. I really wanted to get lost in this series again. Nothing but truly entertaining fun in this aliens-come-to-Earth story. I love how Landers portrays a realistic idea of how people would react to aliens, but is still able to keep you entertained with quirky characters. A great read!
      Storm: The Elementals Series Book One by Brigid Kemmerer – Wow, I loved this book so much more than I expected to. There is a group of four brothers living on their own, that have been marked for death because they are stronger than any of the other "elementals" in the world. (Each can control an element, Earth, Air, Fire, and Water.) At first I thought I would hate this, because I had trouble telling the brothers apart, but after a while I felt like I got to know them, and I totally got in to this story. There are very few books that I am tempted to pick up book two right away after reading book one. This is that type of book. I stopped myself, though, because I have way too many books that I already own. But I see myself giving in and getting this in the near future.
      City of Bones, Cassandra Claire – I enjoyed this waaay more than I expected to. I think the cover turned me off a bit, probably because the guy on the cover looks so old, but he's only about 17 in the book. It started off with a bang, then got a little slow for me during the world building part, but then it really took off for a great time. I imagine the second book is going to be even better because they can just "get to it" without explaining the world again. This was made into a movie that flopped a few years ago (I'm going to rent it though, because I'm curious) It is also being made into a TV series that premieres in January 2016. I'm totally looking forward to that!
   "14", Peter Clines – I waited almost a week before I decided where to place this book on my list. (In fact, it was number one for quite a while) Part of me wanted to bash this book because there is something in it that just came across as stupid to me. But I would be lying if I did not admit that I was scrambling to get back to this book every day. The writing was absolutely amazing, and the characters came alive, and became friends that I really cared about. I would totally recommend this book, especially for writers, for the simple reason of researching how the author painted characters that kept me totally engaged even when the plot took a nose dive. I wish I could explain what disappointed me about this book, but it would be an incredible spoiler. If you do read this, I'd love to chat about it. I might even want to read it again. Yep, it's that good. (This book was my number one for a while, but in retrospect, while I DID LOVE IT, what I will always remember about this book more than anything else is the stupid part. Stinky)
Those are my top ten books for 2015.
And below are the remainder of the books I read this year.
There is one DNF and two that I really wished that I'd given up on rather than wasting my time. Other than those three, these were all really good.
And here are the rest!
Guardian For Hire, by Christine Bell – Okay… yes, this is a romance novel. And I'm not really sure I'd even call it a good one, because I was rolling my eyes at times… but that doesn't change the fact that I really loved this book.
I totally related to the main character. She is a strong-willed woman of privilege. She wasn't starving to death, or on the streets, or suffering from mental issues… she was just a normal, well-off person. I found that refreshing in a novel. (They gave her a background that may have been a little forced, but I brushed it off) I really enjoyed the chemistry of the main characters, and I appreciated how the intimacy didn't get 'rough' like I've seen in far too many books lately (for my tastes anyway.) So, go ahead, sue me. This is a contemporary romance, and I loved it. (NOTE: I originally placed this at the top of my list for the year, but moved it down a few months later, because while I really enjoyed the book, it was not original enough to "stick with me" like some of the others.
Broken Skies by Theresa Kay – Oooo! Aliens! This book was a lot of fun. It is set in a dystopian Earth, where mankind has basically destroyed themselves and live in camp-like city/towns. There is also a city on the planet that has been taken over by aliens. When our main character's brother is "abducted", she befriends an alien accidently left behind in hopes he can help save her brother. This is a great alien romance with an interesting take on a dystopian future. And the characters spend a lot of time in the woods, which I always enjoy. This is a first in a series, and doesn't quite stand alone if you like all of your loose ends tied off. But there is definitely a fun ride of twists and turns, and a plot twist that I never saw coming.
The Looking Glass, Jessica Arnold.
Don't judge a book by the cover. This is a ghost story! Well, sort of. I was very pleasantly surprised by this one. A girl gets trapped inside a cursed house while her body is in a coma. She needs to crack the curse before her parents turn off her breathing tube and she dies for-real. No pressure! I enjoyed this so much. I wouldn't hesitate to pick up another Jessica Arnold book.
Death Becomes Me, Elizabeth Holloway –
I've done a full review on this one. This is the second book of Call Me Grim, where a girl is scheduled to die, and decides to become a Grim Reaper instead. This book delves even deeper into the lore, with a very interesting and even creepier twist. Great sequel.
My Sister's Reaper, Dorothy Dreyer –
This is a bizarre spooky-scary about a girl who has a family history of magical powers. She tries to save her sister who is in a coma (using magic), and ends up facing off with a reaper (as in Grim Reaper). This is a very interesting take on reaper lore. There is a lot of scary imagery (but not too scary) woven around an interesting set of characters. I'm definitely looking forward to book 2.
The Artisans, Julie Reece – This book is a "Southern Gothic". I had no idea what that meant, so I was surprised when it started to get a little scary. This is a loose Beauty and the Beast retelling, where a girl is blackmailed into designing clothes in this "mean but cute" rich dude's mansion in order to save her father. But there's a catch – the mansion is haunted. And Mr. Hotness might have a few family secrets. I enjoyed this book a lot, especially the last 30% or so when things started to heat up between the main characters, and the ghosties started to get a little… ummm, "impatient". This is great for romance fans who don't mind a little "scary" mixed in with their love story.
Hopeless, Colleen Hoover – I have heard tons about Colleen Hoover and how great her books are, so in the interests of research, I asked my readers which was the most fast paced story, and they recommended Hopeless. Going into this, I knew it was a contemporary, so my hopes were not high… but I really hoped to like this in the end.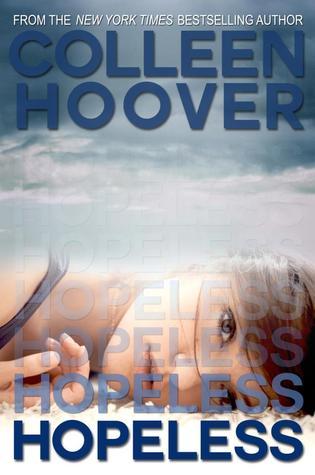 Unfortunately, that didn't happen for me. Was it the book's fault? No. Not at all. This was a typical scenario of a bad reader to book match. So even though I did not like this book, I would still rate it four stars for how well written it was, and how it attempted to address some really serious issues. Why subtract a star if I can ignore not liking the book? Well, there was one point in the story that I found very unrealistic. It had to do with the way two people dealt with a horrible situation. I didn't buy it. So I took half a star off for that. I also took a half star off for the names that made me roll my eyes. This book had all the stereotypical ridiculous names you hear about in romance novels. Now, yes, I can see that there may be girls names "Sky" in the world, but do they have to have a best friend named "Six" and does the love interest have to be named "Holder?" (Holder was his last name, but that's what he was called in the book.) It just seemed so cliché to me having all these characters with this type of name. It bothered me through most of the book. Overall, the reason I did not like this book was that I read to be entertained. This topic (abuse) is not entertaining to me. (again, that's just a bad match of reader to book) Also, there is a trend in YA these days to have characters that come from horrible backgrounds. I know I am extremely blessed that my parents were not divorced, they did not physically or mentally abuse us (Other than a spanking and driving us to be our best) We were not poor. No one in my family has been murdered. No one does drugs. I could keep the list going, but I think you get the picture. Personally, I don't see why we can't have more stories about normal people doing extraordinary things. I don't know. I guess people would find that boring. Anyway – Four stars for "Hopeless" by Colleen Hoover. It was excellent – just not my cup of tea. (Book Review)
Temptation by Kathryn Barrett — This is about an actress who moves to an Amish town to get ready for her role as a young Amish newlywed. Things get awkward when she develops feelings for the handsome Amish widower next door.
I have mixed feelings about this book. We see the story from two points of view: the actress, and the Amish man. It is weird, because the Actress totally wants this Amish guy. We get that. He's hot. But then we are thrown into the Amish man's head. He is troubled by this seductress. She is the antagonist in his story. I couldn't root for them to be together, because if they do end up together, this man's wonderful, perfect life will be ripped apart. I didn't know who to root for. I wanted them both happy, but I didn't really see any happy ending. Only the really great writing kept me reading, because, to be honest, I was AFRAID of the ending, because I could not in my right mind see a happy ending in these people's futures. The whole thing kinda left me feeling disturbed. I would pick up another Kathryn Barrett book though. I loved the writing style.
Doon, by Lori Langdon and Carey Corp —This is a tale about a girl unhappy with her home life who goes on a summer vacation to Scotland, and starts seeing a spectral image of a cute guy in a kilt.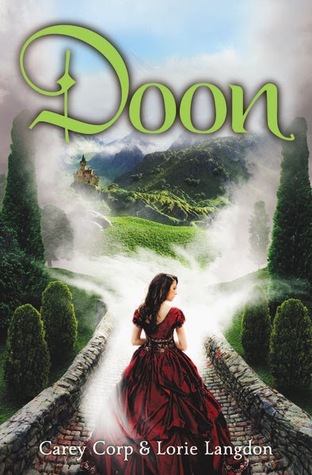 Okay, that kinda simplifies things a bit, but that is the gist of the opening premise. There ends up being a whole history about the family she vacations with, and suddenly she is whisked back in time/into another dimension (called Doon) and she meets the guys she's been seeing images of. This was a nice, light read. Just what I needed after the heavy, disturbing images in The 5th Wave. This is the kind of book that is fun to cuddle up with by the fire and forget about the workday. Just a nice, light, trouble-free read.
Starcrossed, Josephine Angelini. This book had an awesome concept. Children of the original Gods still walk among us with powers, and there is this feud going on that makes descendants of different gods compelled to fight each other to the death. I had high hopes for this book, because it was recommended by a few teen fans. Where I did enjoy the story, I was never submersed in the narrative. I never really felt for the characters. I wasn't scared in the right places. I will not say it was not a good book. It was. I did enjoy reading it and I would consider reading the next one. I just wish I could have completely lost myself in the world.
Pretty Crooked, Elsa Ludwig – This is a book about a girl who suddenly comes into some money, and she and her mom move to a rich town and the daughter goes to an expensive prep school. When the daughter sees "scholarship" kids getting picked on, she starts robbing from the rich kids who are mean and buying nice clothes for the poor kids. I had very mixed feelings about this novel.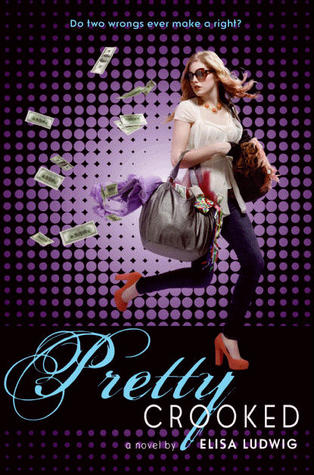 The writing was great, and going into the story, I was warned that there was "no ending at all" (By my mother-in-law, of all people). I figured there had to be some kind of ending, and I know there is a sequel, so I started reading expecting there to be a few "open" plot elements that would make you want to buy the next book. While I enjoyed this book overall, I was stunned that there actually WASN'T an end to the book. It is almost like it stops mid-chapter. There are several conflicts: 1. Which guy will she end up with 2. Will her best friend hate her forever 3. What is going on with her Mom 4. How will getting caught pan out in the end (That's not a spoiler. They kind of let on in the first chapter that she gets caught.) I was okay with the ending at first (It was late and night and I was tired) but the next day, when I realized there was no resolution to ANYTHING I felt a little different. The book is good if you are ready to invest in an entire series. Just go into it ready to be buying more books.
Lifer, Beck Nicholas – I had my eye on this for a while because the cover was gorgeous. LIFER is kinda like reading two books in one. There are two main characters, written in dual first person POV. We start with a slave girl on a space ship with the rumblings of rebellion, and then the next chapter trades off to a boy without any memory waking up on Earth beside a dead kid. LIFER had me scratching my head, because I couldn't really tell how these two stories would intertwine. And you have to wait until you are about 75-80% into the book to understand why. Despite the cover with space ships on it, DO NOT expect this to be about aliens. LIFER, with it's oppressive, brutal governments, is really more of a dystopian. If you're looking for conspiracy, guns, and rebellion, this is the book for you.
Claire Daly: Reluctant Soul Saver by Michele Brouder – This book is about a girl who gets these powers that she doesn't understand, and ends up being someone who guides lost souls to heaven. (That's oversimplifying it a little bit, but that's the main premise.) There is a lot going on in this story. It is about a girl finding herself while discovering family secrets and, of course, fighting off the bad guy (I have to admit the bad guy in this book is delightful.
Unfortunately, he might have been a bit too delightful, because I found myself rooting for him a few times.) I have mixed feelings about this book. It stayed with me for a while, because I enjoyed the overall premise. I just wish I loved it more. I wish it started later, because it starts off with glowing hands out of nowhere, and then lags for too long until something happens. Then later, when stuff starts to happen, I found myself rolling my eyes at the cliché stupidity of the heroine. The ending certainly rocked, and I did find myself in tears at all the right places… But I think if the entire story had been tightened, and the Claire Daly character had been constructed with street smarts, I would have been wildly singing this book's praises. (I mean, if you are in a bar, and three guys basically threaten to rape you, and get themselves thrown out of the bar, you DO NOT walk home through the woods by yourself. – I almost stopped reading there, to be honest) And we see near the end that she didn't learn from her mistake, as she takes off by herself again to another place that would obviously do her harm. Despite all this, though, I do admit that I enjoyed the story overall. I'd give this a solid three stars. It's an interesting book with a deep spiritual slant about God and angels. (I was sent a copy of the book in exchange for an honest review)
Slumber, Christy Sloat –
This is a dark retelling of Sleeping Beauty. The princess wakes up in an insane asylum not remembering who she is, and she is told that she killed her boyfriend. And guess who runs the asylum???? (Don't think too hard.) This is a very different spin on the classic Sleeping Beauty tale. Very Dark.
Joshua and the Lightning Road, Donna Galanti –
This is a middle grade action adventure.
I will point you to my son's review that I posted on my blog, because he is the target audience for this book. In a nutshell, he loved it.
Unnamed book – That dumb shifter story where the guy turns into a cat. (I'm not going to even bother going back to look for the name of the book – DNF) – Ugh. I picked up this book because it was written by a bestselling author, and I like to read styles from all different genres. This was romance and heavy on the sex, but I only made it about 37% into the book. I think the problem was that the overall premise (the reason why these two characters were driven together) made no sense to me. I did not understand why this girl needed to have meaningless sex with him to get out of being queen, while her fiancée had this shifter tied up to have sex with her so she WOULD end up being king. I tried to overlook that and enjoy the story as a chase novel after they took off together… but as it moved forward it just didn't have any substance. I was reading it "just to get it over with" and I realized that my time is precious, and other books were calling me that I hoped where better conceptualized.
Novellas:
Until Midnight: An Alienated Short, Melissa Landers –
This was nice… a free read for Christmas bridging the very small gap between the best-selling Alienated and the soon to be released Invaded. Don't expect too much from this. It is really just a cute little snippet to keep readers swooning over the alien hero a few more months. Can't say I didn't enjoy it though. Just wish it was a little longer … but then that would be a novel, wouldn't it?
Saved by the Dragon, Vivienne Savage – I was pleasantly surprised by this novella. I mean, it's a cheap romance, and they have sex a few minutes after meeting each other – totally stupid, but I loved the characters and the dynamics once they actually started to get to know each other. I'm considering buying more in the series. Funny – I just read the one star reviews, and I have to agree with them all. Everything about this is book is dumb, but for some reason I kept turning pages. (Update – The rest of the series went on sale New Year's Eve for $.99 for the box set. I figured, hey, why not?)
Did you read any of these? What did you think?
What was YOUR favorite book of 2015?
You can find Fire in the Woods at all these awesome bookish places!
Amazon | Barnes & Noble | Book Depository | Kobo | Chapters Indigo! | iBooks | IndiBound |