Starflight by Melissa Landers (Audiobook) In this science fiction adventure, Humans have inhabited worlds far beyond our galaxy. A young orphan girl, hoping to erase past mistakes, sells herself as a six-month indentured servant in exchange for passage to the outer realm, where she can work as a mechanic and start a new life.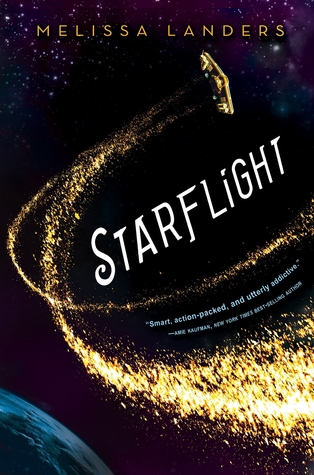 Things go wrong along the way, though, entangling her with a crew of smuggler-types who send her through a race through space from pirates, bounty hunters, and the police. This is a fun story about finding friends, and maybe even love, in the most unexpected places. Lots of action, a fantastic cast of well-rounded, believable characters, and an entertaining plot. (Right down to the sugar glider ship mascot).
I really like how the author had a complete backstory for every character, and each quirky personality stood on their own. Also, we had Solara, Doran (the guy who indentures her) and the crew, each with their own stories/personal/legal issues, and all these wove together to keep complicating each other's problems, yet the group always bound together to get through it all. I really appreciated the complexity in this one. Tons going on, but it never got confusing. Great for science fiction adventure lovers.