The Elite by Kiera Cass (Ebook) This is part two of "The Selection" series. I had super high hopes for this book, probably because I was so surprised by how much I loved the first one.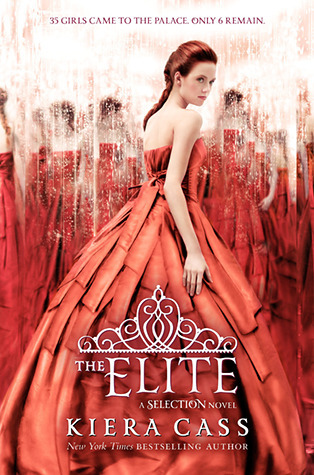 I guess when hopes are so high, a book is bound to falter.
I think part of what I liked about the first book was that it was fluff. I mean really, it was total fluff and it fluffed well. It never tried to be more than fluff. But then here in The Elite, it tries to claw out of the world of fluff and become something more.
Problem is, I didn't want more. I'd read a few heavy novels before this, and I reached for The Elite expecting more fluff. I got some fluff, maybe even more than normal, but it bothered me that it tried to become "something else."
I pondered this for a while before writing a review, and I think if I had read this book first, I would have been fine with all the extra political turmoil, because I wouldn't have been expecting something so light. Does that make sense? Anyway, I liked, not loved this book. I will probably continue with the series, but I will not be scrambling for the next book like I was after reading book one.
**That does not mean I didn't enjoy this** I just liked the first one better.