Summoned by Rainy Kaye (Ebook) I picked up this book on Netgalley. It centers on a male character who has to do whatever his master "wishes". It is a genie/master relationship.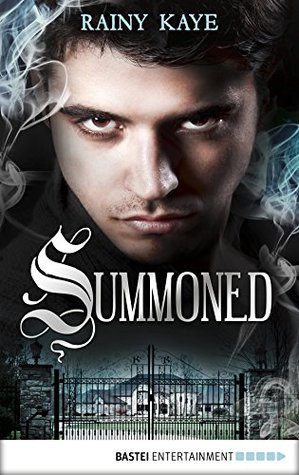 The only problem is, Dimitri has no magical powers. He has to figure out how to do what his master wants (Including murder) in a given amount of time, or he will experience intolerable pain.
Dimitri cannot afford relationships, instead living through a string of one-night-stands, until he meets the quirky Sid, who keeps coming back, no matter how hard he tries to push her away.
I really loved the premise of this book, and the unique take on Genie lore. This is what kept me reading. The characters seemed a little flat to me, although I can't quite place why. They both have distinct personalities and backstories that should have hooked me. This may be due to the male POV character, who always scooted on the edge of his emotions (as I believe is realistic for his situation) We get a lot of thought from Dimitri, but for some reason I could not feel his pain (although I DID understand his pain)
I still gobbled up this book, though, really enjoying the whole idea. And when Dimitri's master makes that last wish! Omigosh! Loved it… and then when things get even worse! (Can't tell because of spoiler) I wish it were a little more fast paced in spots where the relationship was developing, but overall I really did enjoy this book – especially the roller coaster ride ending—and I am interested in seeing what the net book has to offer.
---
---
You can find Fire in the Woods and Ashes in the Sky at all these awesome bookish places!
Amazon | Barnes & Noble | Book Depository | Kobo | Chapters Indigo! | iBooks | IndiBound |
---
Catch up with me on social media!