Tell the Wind and Fire by Sarah Rees Brennan (Audiobook) It is a rare day when I am completely floored by a book. Tell the Wind and Fire was sent to me by the publisher (Quite a surprise to me, I might add) When I first got it, I glanced at the cover, breezed over the blurb, threw it on the "maybe" pile, and forgot about it. A few weeks later, someone nudged me saying how good it was, but I still ignored. But now I am sitting in my chair with a huge gape on my face.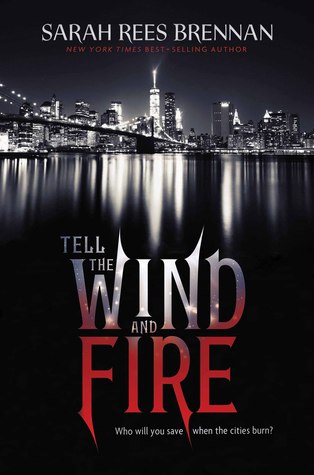 This is probably going to be in contention for the best book I've read this year. It's a complicated story that I will try to explain concisely, but I doubt I can do it justice.
We are in New York City in a dystopian future. New York is governed by wielders of "light magic". Next to New York is the Dark City, where the dark magicians live (in poverty).
Lucie is caught between two worlds, a light magician from the dark city. She gains some celebrity when she saves her father from an execution, and then is used as a political pawn of both sides of a war between the two cities.
This is a retelling, which I should have realized on the first page, but I didn't make the connection until the last half-hour of the book. The world-building in this book is exemplary. You spend a great deal of time (maybe 60%) inside Lucie's thoughts. Where this might have been annoying, for me it was grounding as the thoughts flowed freely, in a believable way.
My only real problem with this style, was that I wanted to really feel the emotion of the pivotal ending scene… but with Lucie contemplating the way the world was about to change, I think we lost some of the raw emotion of what happened at the end. Still, that did not stop me from thinking about this book for days after I'd finished. For some reason, this resonated with me. I'm really glad I decided to give it a chance. This is a book you should not hesitate to put on your TBR.
---
Hello out there!
---
You can find Fire in the Woods and Ashes in the Sky at all these awesome bookish places!
Amazon | Barnes & Noble | Book Depository | Kobo | Chapters Indigo! | iBooks | IndiBound | Google Play
---
Catch up with me on social media!