The Raven Boys by Maggie Stieveter (Audiobook) I'm a little conflicted on this book. The writing was great, and the character development of the side characters as well as the main characters is outstanding. I just wish I loved the story more.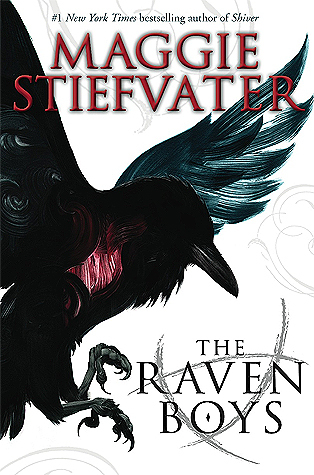 Early in the book our heroine, Blue, daughter of a psychic, sees the death of a boy called Gansy. She soon meets him, and reluctantly joins him on a search for the "layline" which is a magical road powered by spirits.
It took me a very long time to start enjoying this book. I think what kept me going was the great characters. I wanted to know more about them, and to see how things panned out for each. All the characters were very different, and I thought it was great that we got to see their side lives intermingling within the main plotline without it becoming confusing. This is the part that I enjoyed. As far as not enjoying the story as a whole, I think that is a poor match of reader to book. The subject didn't hook me. But I think that people into paranormal ghost stories with a little bit of mystery investigation would absolutely love this.
***Ha! I forgot I'd reviewed this already, so I wrote another review for this book two weeks later – this is what I said***
– I found this book to be quite a conundrum. I really didn't enjoy the story. In fact, I couldn't care less what happened in the plotline… but never once did I consider not finishing the book. And, oddly enough, when I made a few statements on social media noting this, quite a few people agreed that they had the same dilemma. This made me sit and ponder this for a while. I waited about two weeks between finishing the book and writing the review, just to see how I still felt about it after finishing some more novels. I also wanted to figure out WHY I felt this way. As the plot dwindled into a blur, almost forgotten, I realized I remembered a few things about this book. What I remembered was not what happened, and why, but instead, I remembered the characters. I then realized that I was so totally engaged with these characters that I didn't care what was going on, I still wanted to read about them. For that reason, and that reason only, would I consider picking up the next book. Taylor is a master at creating characters that we will not only remember, but also that sink into our bones and become part of us. Someone told me that her other series what much better plot-wise. I will definitely be looking into this, because it is a rare day when I am totally engaged in both the plot AND the characters. I'd give this book a solid four star, dropping one because I probably won't remember what this story was about in another few weeks.