These Broken Stars by Amie Kaufman (Ebook) First of all, COVER LOVE! This is one of only a few cover buys I've ever made.  Take a moment to soak in the loveliness.  All good? Then let's continue.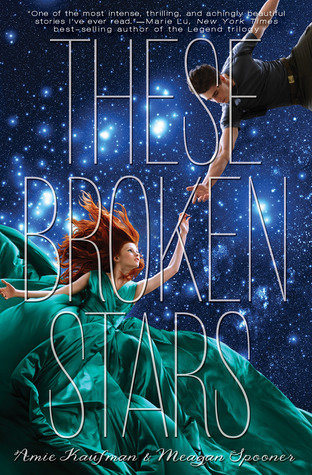 This book starts on a luxury cruise ship in space. Something catastrophic happens, sending all 50,000 passengers running to the escape pods.
We follow the story of two survivors who crash land on an uncharted planet where weird things start to happen (over and above them rooting through other escape pods and ship wreckage).
This is a combination of YA romance and a survival story. The first half disappointed me a bit. It seemed all they were doing is walking forever and thinking about how much they didn't like each other (While wishing they were not attracted to each other – Typical YA) but there is a ghosty-like theme going on throughout. Is one of them crazy? Hmmmm…
I stuck with this book because we were reading in my book club, and I'm glad I did. There is a very interesting twist at the end, and I did end up liking the book. I think this is a three star for me. It loses one star for non engaging me for the first half of the book, and another one, because the reason the female lead was mean to the male lead was very weak. I mean, seriously… If you dad is going to kill the guy just for talking to her, just TELL THE DUDE THAT. Why keep that a secret?
So, yeah, three stars. Good, but this won't be a favorite (By the way, I think the people in my book club all liked it more than I did, and it was my month to choose. Ha!)