Yes, I am this evil.
Funny thing is, she did it! But I think she cleaned it up first. That's cheating…
Welcome to my workspace. Oh, how I wish I was all neat and organized, but I'm not! Let's see where to start.
Well, first off my hubby decided to invade my work space, hence the two monitors and keyboards. My dog Manny claims any seat you get up from and declares it now belongs to him.
Puppy! We love puppies!
And it does belong to him. You just missed the memo!
I have a corkboard behind the monitor that's hard to see but that's where I keep all my inspirational quotes and affirmations.
I make mock book covers of my works-in-progress. I also have pictures up of my first books. I love maps! In Polaris, Aaron has a large map over his desk too. Top shelf, a modem, photos of my daughter and husband, a big stuffed teddy bear, a Shofar (biblical instrument), and loads of books everywhere!
I love my workspace, it cozy and comfortable. Now, excuse me, I must go reclaim my chair!
If she thinks this is neat an organized, my desk would make her faint) Ha!
---
About Polaris: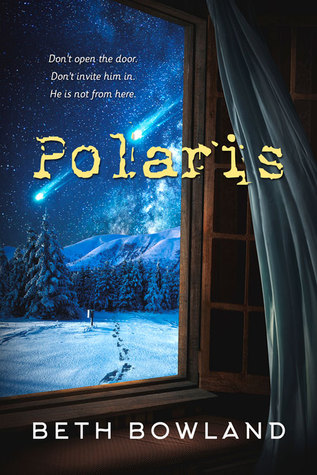 Bixie, Montana, is in the middle of nowhere, not connected to any place, and not used as a pass through to get anywhere. But one snowy evening, a lone visitor walking down an old country road changes 13-year-old Aaron Martin's life forever. Aaron thinks he's being a Good Samaritan by inviting the nearly-frozen visitor into his home, but he's unwittingly initiated The Game. A group of Elders, known as the Council of the Legend, come together from time to time to enjoy a rousing event they playfully call "The Game." Now, Aaron's town is the playing board and he and his fellow townspeople are the players. The rules are simple. Win. Because if Aaron loses, he won't just lose his family . . . he'll lose his very identity.
Purchase Links:
Google Play | BAM | Chapters | Amazon | B&N | Kobo | TBD | iBooks
---
About the Author:
Beth Bowland, a native Ohioan, has always enjoyed reading and creating stories of her own. As a child she devoured every book she could get her hands on and spent numerous hours at the library each week. She loves writing stories for tweens and young teens and her characters are often described as quirky and fun, but always relatable. When she's not writing, she loves watching HGTV. She has one daughter and resides in Arlington, Texas with her husband, Phillip.
 Website | Blog | Twitter | Facebook | Goodreads
---
Giveaway Information: Contest ends September 2, 2016
One (1) winner will receive a scrabble tile book cover charm (US ONLY)
Five (5) winners will receive a digital copy of Polaris by Beth Bowland (INT)