---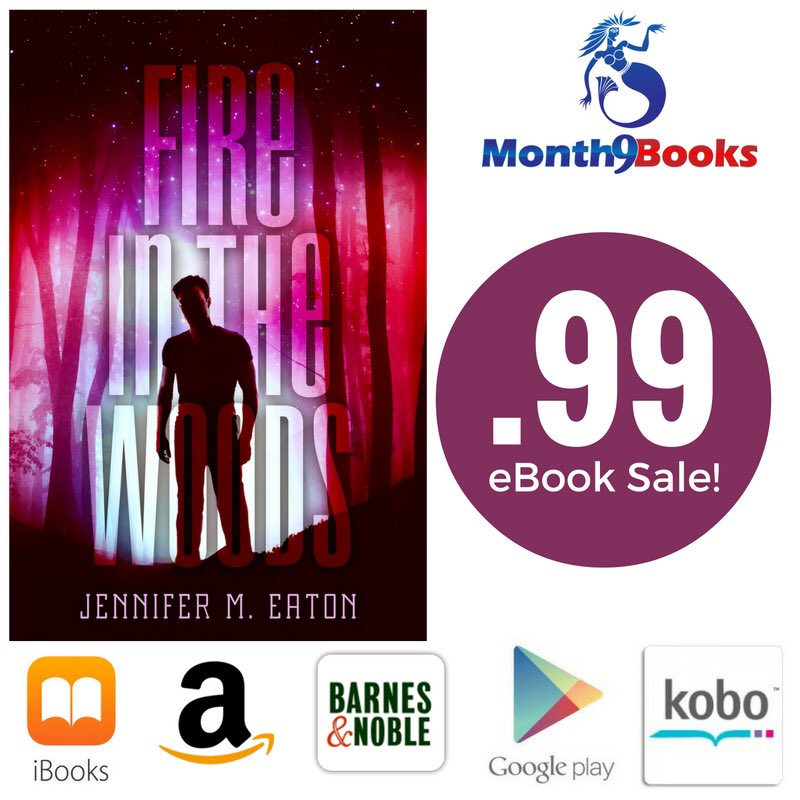 Aliens, Armageddon, and Romance
Fire in the Woods is only $.99 on Ebook
For a limited time!
Amazon | Barnes & Noble | Kobo | iBooks | Google Play
---
Last week, my book went on sale on Ebook for $.99. This was a bit of a surprise, and I wouldn't have even known unless a friend happened upon it and let me know (funny how that happens in the publishing biz.)
Anyway… in a perfect world I would have had tons of marketing ready, but since my book was only going to be on sale for a week, I needed to act fast.
       Instagram Posts
       My Newsletter
       My Street Team
       Twitter
       Tumblr
       Facebook
When I hit Facebook, the app prompted me to boost the post. I figured, why not? It was the perfect chance to test the waters.
The process was insanely easy, and not really all that expensive.
I started with a budget of $7.00 total, for an add that would run for seven days. (A dollar a day. That's not too bad)The results were interesting…At the end of the seven days, I had reached an additional 1,995 people, and 56 people had clicked on the buy links.
(more on WHO clicked below- stay with me)
Breaking that down, about 8 people clicked the buy link per day. NOT HUGE NUMBERS, but not that bad… because I know from research that you need to see the cover of a book at least three times before you consider buying, and then another 3-5 times before you decide to find out more or buy.
I had an "organic" reach of 150 people (that is average for me… these are the people who would have seen it in the feed without any advertising).
I asked the App to send the ad to women only in the USA between the ages of 13-50 who have shown interest in reading, science fiction, romance, young adult… etc.
Then I drilled down and found something REALLY interesting…
I looked at the demographic of the "clicks". This was a real eye-opener. I know that my book is written for the 13-18 age group, but I went for the broader 13-50 range because I know a lot of adult women read YA as well.
But guess what?
48 of the people who clicked the buy links were in the 13-19 age brackets. My exact target audience! So sending out to a broad age range, I decided, might have been a mistake.
But the sale wasn't over yet…
Then, I noticed that the sale had not ended on Saturday as scheduled. I decided to give my ad one last push. I was going to do one day for $1, but decided to try 1 day for $2 to send it to more people. I also adjusted the age bracket to 13-19 year olds (Sorry, adults… I was experimenting)
On that one day I received an additional 515 views and an additional 11 clicks
The final stats
So, at $1 a day I received an average of 284 views per day and 8 clicks per day
At $2 a day (On a Sunday, which might have skewed things) I received 515 views and 11 clicks
If you want to be really anal, for a total of $9.00 it cost $.00359 cents per view, or $.13 per click. Personally, I don't only value the "click" numbers, because I know how important just the face time of the cover is.
How does Facebook stack up against other advertising?
I have purchased some other forms of advertising that cost $280 for just a few mentions. While those did provide great face time, I don't think they were as good of a value as the Facebook ad.
So, to sum it all up, YES I would do this again, but with a few changes.
#1. I'd not shoot for such a wide age audience. If it went to more 13-19 year olds, I might have ended up with more clicks
#2. I'd taken a class on Facebook ads a few days before this happened, but I didn't have time to create my own ad. Instead, I used just a picture of my book, and a friendly post about the sale. I'm going to experiment next time with the suggestions from the course I took. (Below is the Instagram version-same pic, same text as the Facebook Ad) Here is a link to the actual ad https://www.facebook.com/JenniferEaton.Author/
State breakdown… In case anyone is interested…
The most "clicks" came from California. 11 clicks from 167 people who saw the ad.
Followed by Ohio: 7 clicks from 123 reached
Arizona, Florida, Georgia, New Jersey, Pennsylvania: all 4 clicks from 50-99 reached
Most of the rest were 50-ish views with 1-3 clicks per state.
Yes, there were 24 states who saw the ad, but had no clickers. [Sad face]
If you'd like to know anything else about the experience, please let me know!
Has anyone else tested out the waters of Facebook advertising? How did it work for you?
.
---
---
You can find Fire in the Woods and Ashes in the Sky at all these awesome bookish places!
Amazon | Barnes & Noble | Book Depository | Kobo | Chapters Indigo! | iBooks | IndiBound |
---
Catch up with me on social media!